Download it on December 1st. Patch notes available.
Dear comrades,
Loresoft is proud to announce that the stable alpha demo is coming on Steam on December 1st.
You will be able to download it by clicking here.
It has been almost two years after we released our first early alpha demo and we are glad that after so much effort we are ready to present you the stable alpha version of Katyusha, including the Chapter 2. Keep in mind that this is the first version of the stable alpha version and that we will keep working on it for a large period of time, until we reach the status of "vertical slice". Once Katyusha is funded, we will be announce it in public and start working on the final version.
In the meantime, starting from December 1st, you should know that we will update our Steam Demo with constant updates and hotfixes. We are also preparing our Forum here in Loresoft.gr so that we can have a better communication, beside the Steam Community Discussions.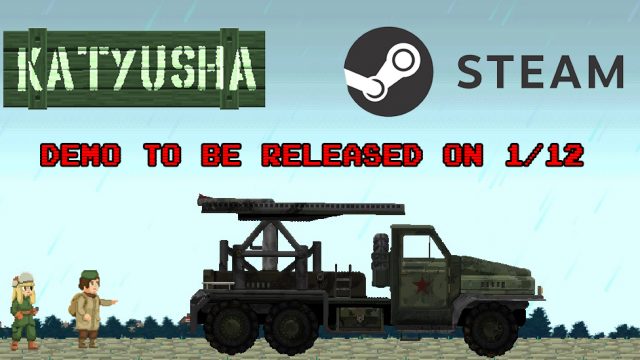 So here are our patch notes for the stable alpha v.252:

New features:
– Chapter 2: Battle of Odessa
– Chapter 2 song: Red army is the strongest
– New NPC: Lyudmila Pavlichenko with her first dialogues (more dialogues and quests will follow).
– Katyusha Rocket Launcher: Control the vehicle by solving a puzzle
– The bullets are now limited. You can also kill your enemies with back and forth melee attacks.
– Scaled difficulty, according to user's level
– Katyusha can now grab from ledges.
– The addition of hanged bodies. Click the use button and you have a small percentage of getting a letter.
– The loot on each enemy is random.
– The A.I. and movement of enemies is now more realistic.
– Bombardments by German Messerschmitt Me 262 airplanes which cause instant death and terrain change.
– Dynamic weather conditions (rain and snow) are effective only on Chapter 2. There are currently no effects in battle.
– Day/Night cycle occurs in both levels. There are currently no effects in battle.

Things to keep in mind:
– Chapter 2 is going to have new areas, buildings and missions and the size of it will expand.
– Katyusha needs some adjustments in animations, with and without rifle.
– Chapter 2 art is not final and will change in the future.
– In Chapter 2, the insides of buildings are placeholders.
– Soviet and German letters are going to be increased.
Upcoming features:
– Crafting: The crafting system is under development at the moment.
– Lyudmila's dialogues and quests are under development and we will need several months to complete them.
– User will be able to dismantle items (ex. the car at the beginning of Chapter 2) and use the materials for crafting.
– Gunfights when driving: We are going to include a surprise gunfight while driving.
– When at sunset and night, the enemy's sight range will be reduced.
– New enemies are going to be added in Chapter 2.
– Eagle skills
– And more…
Stay tuned as after the new demo release, the updates are going to be often and we are going to communicate together in a daily basis, so that we can improve our game.
Thank you for your support!

Follow Katyusha on Facebook, Twitter and Instagram. Also make sure to Subscribe in our YouTube channel so that you are always up to date with our new videos!